Biography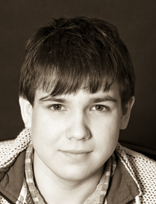 James Aitcheson was born in Wiltshire in 1985 and studied History at Emmanuel College, Cambridge, where he developed a special interest in the Middle Ages. He is particularly interested in the Anglo-Saxon period and the Norman Conquest, a time of tremendous change that proved to be one of the biggest turning points in English history. His novels are published in the UK, the US, Germany and the Czech Republic.
Sworn Sword is his first novel, and the first in his Conquest series. Set three years after the Battle of Hastings, it tells the story of the great English rebellion as seen through the eyes of one of the invaders, an ambitious and oath-sworn knight named Tancred.
The sequel, The Splintered Kingdom, picks up Tancred's tale one year later as enemies both old and new combine forces to bring the Normans' fragile grip on England to the point of collapse. The third book in the series, Knights of the Hawk, sees Tancred and his allies venturing beyond English shores for the first time in pursuit of both honour and vengeance.
James's latest novel, The Harrowing, about five English refugees' struggle for survival during the Harrying of the North (1069-70), was published by Heron Books, an imprint of Quercus, in July 2016.
James is a member of the Royal Historical Society, the Society of Authors and the Historical Writers' Association.
Featured podcast

For more podcasts, visit James's channel on

Soundcloud

.

New & forthcoming releases

UK: The Harrowing, 7 July 2016 (hardcover).

US: Knights of the Hawk, 2 August 2016 (paperback).

Czech Rep.: Rozervané království, 13 February 2017 (hardcover).