Further reading
Anglo-Saxon England and the Norman Conquest
In the course of my research I've consulted a vast range of texts on all manner of subjects relating to the politics, culture and society of early medieval England. To try to list them all here would be an impossible task, so instead I've selected a few widely available titles that I hope will provide a useful introduction to the history behind my novels if you're interested in discovering more.
General introductions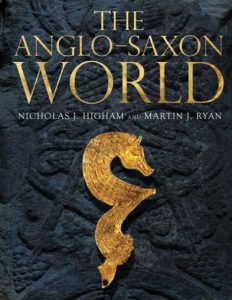 Many general studies of early medieval England are available. One of the most accessible and comprehensive guides, in my opinion, is The Anglo-Saxon World by Nicholas J. Higham and Martin J. Ryan, a beautifully presented and fully illustrated book that covers the whole period from the end of Roman Britain in the late fourth century through to the creation of Domesday Book in 1086.
A highly useful reference work, and an invaluable resource for students as well as the historical novelist, is The Blackwell Encyclopaedia of Anglo-Saxon England, edited by Michael Lapidge, John Blair, Simon Keynes and Donald Scragg, a collection of 700 concise articles by 150 different scholars, covering almost every conceivable aspect of political, social, economic and ecclesiastical history: from linguistics to archaeology, literature to astronomy.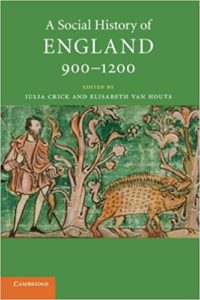 For understanding the economy and society of the late Anglo-Saxon and Norman periods, there is no better text than A Social History of England, 900-1200, edited by Julia Crick and Elisabeth van Houts. Rich in detail, it offers 30 introductory essays on topics as diverse as land use, religion, medical practice, law and justice, commerce, ethnicity, migration and family, each with an extensive list of further reading that makes this volume an excellent springboard for further study.
Marc Morris's The Norman Conquest, which I reviewed in 2013, is one of the best modern accounts of the events leading up to 1066 and the aftermath of the Norman invasion, engagingly written with a storyteller's flair and yet solidly backed up throughout by reference to the relevant primary sources.
Other useful introductions to the Norman Conquest include: David C. Douglas's William the Conqueror, originally published in 1964 but nevertheless an excellent study of William's upbringing, career and rule; Frank Barlow's The Godwins, a useful counterpart that provides an overview of events in England in the years leading up to 1066, focussing on the fortunes of one of the most powerful pre-Conquest aristocratic dynasties; and Conquest and Colonisation by Brian Golding, a broad examination of the impact of the Conquest on English society.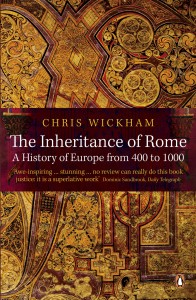 For a wider European perspective on the early Middle Ages, there are few better places to start The Inheritance of Rome by Chris Wickham, a dense and magisterial study of the transformation of the late Roman world, via the rise of the so-called 'successor kingdoms', up to the end of the first millenium AD. You can read my full review here.
I can also highly recommend The Early Middle Ages, edited by Rosamund McKitterick, which takes a thematic rather than a geographical approach to the subject. Its various authors explore the period through political, social, economic and religious change, and emphasise parallel developments across various parts of Europe, providing useful context for the study of Anglo-Saxon England.
Primary sources
While some of the key primary sources relating to the period are unfortunately still only available as academic publications, many are now available in affordable mass-market editions too.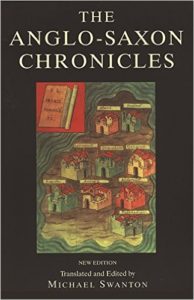 The Anglo-Saxon Chronicles, edited by Michael Swanton, were compiled over several centuries and are an invaluable record, providing a continuous history that spans the Conquest and extends up to the accession of Henry II in 1154. Swanton's edition is fully indexed and is enlivened with maps, family trees for the various royal dynasties, and black and white illustrations.
Several key texts have been published in Penguin Classics and Oxford World's Classics editions. Bede's Ecclesiastical History of the English People is a vital source for the early Anglo-Saxon period, from the arrival of Germanic peoples in Britain and their conversion to Christianity up to the early eighth century.
Henry of Huntingdon's similarly titled History of the English People, translated by Diana Greenway, is a vibrant and entertaining account of the years from c.1000 to the reign of King Stephen, and is the original source of famous episodes such as Cnut and the waves and the death of Henry I in 1135 after a 'surfeit of lampreys'.
The Anglo-Saxon World: An Anthology, edited by Kevin Crossley-Holland, collects together several texts that together offer a glimpse into Anglo-Saxon culture, from the iconic and epic poem Beowulf – without a doubt the best known creative work to emerge from early medieval England – to many other examples of Old English heroic and elegiac verse, riddles, laws and charters (land-grants).
Online resources
BBC Radio 4's long-running series In Our Time, presented by Melvyn Bragg, has an extensive archive of episodes on various aspects of medieval history and culture that you can stream online or download as podcasts to listen to at your leisure. Highlights include: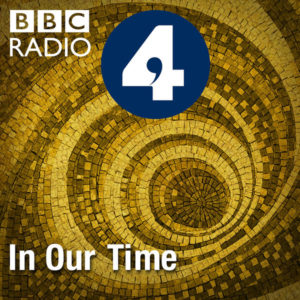 The 12th-Century Renaissance;
Alfred and the Battle of Edington;
Athelstan;
Beowulf;
The Carolingian Renaissance;
Chivalry;
Domesday Book;
Eleanor of Aquitaine;
Icelandic Sagas;
The Lindisfarne Gospels;
Magna Carta;
The Norman Yoke;
Third Crusade;
The Venerable Bede;
The Volga Vikings.
In Our Time's archive features many more episodes from all periods of history, from the prehistoric through to the 20th century.
Featured podcast

For more podcasts, visit James's channel on

Soundcloud

.