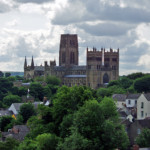 Hot on the heels of last week's addition to Tancred's England, my historical guide to the kingdom as it was c.1066, I present to you another potted history for your delectation, this time focussing on the city of Durham.
As readers of Sworn Sword [...]
Continue Reading

→
New & forthcoming releases

US: The Splintered Kingdom, 5 August 2014 (hardcover).

UK: Knights of the Hawk, 22 May 2014 (paperback).

Germany: Die Ritter des Nordens, 16 December 2013 (paperback, eBook).