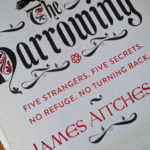 The first printed copies of The Harrowing arrived in the post recently, courtesy of my excellent publisher Heron Books, to my immense delight. But this isn't the finished edition of the book; these are what are known as bound proofs, also sometimes called advance review (or reading) copies (ARCs).
The bound proof is
Continue Reading

→
New & forthcoming releases

UK: The Harrowing, 7 July 2016 (hardcover).

US: Knights of the Hawk, 2 August 2016 (paperback).

Czech Rep.: Ve znamení meče, 15 February 2016 (hardcover).