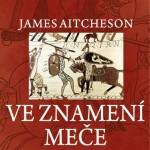 My first new book of 2016 is almost here! I'm pleased to announce that Ve znamení meče, the Czech edition of Sworn Sword, will be published next month, and that this will be the cover:
As you can see, it's very different to the cover of both UK and US editions, and to that of
Continue Reading

→
New & forthcoming releases

US: Knights of the Hawk, 4 August 2015 (hardcover).

US: The Splintered Kingdom, 1 November 2015 (paperback).

Czech Rep.: Ve znamení meče, 15 February 2016 (hardcover).