Currently viewing the tag: "Goldsboro Books"
First copies of The Splintered Kingdom arrived recently and look amazing, as I hope you will agree. Although of course the words contained within its cover and even the jacket design are now very familiar to me, seeing the finished book in the flesh, so to speak, is still a tremendous thrill. I'm looking forward to spotting it on bookshelves when it's published in just a few days from now, on Thursday 13th September.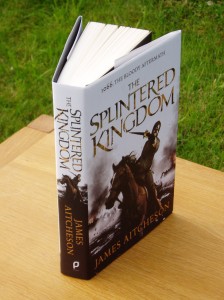 Set one year on from the end of Sworn Sword, it once more features Tancred, who has been rewarded for his exploits with a lordship on the turbulent Welsh Marches. But as the enemy stirs, his hard-fought gains are soon placed in peril. Under siege on all sides, the Norman realm begins to crumble, leading Tancred to face his sternest challenge yet. It will be either his chance for glory, or his undoing.
If you fancy a sneak preview of what's in store, the synopsis and even a downloadable extract from the novel (PDF) can be found here.
I'll be launching the novel with several events this coming week, starting with a talk and signing in Marlborough in Wiltshire on the evening of Tuesday 11th. Hosted by the White Horse Bookshop, who organised a highly successful signing last year on the publication of Sworn Sword, this will be an exclusive opportunity to get your hands on the book before it goes on nationwide release two days later.
Then on the evening of Friday 14th, I'll be continuing the book tour with a talk at Waterstones in Salisbury. I'll be discussing what inspired me to write about the Norman Conquest and how I go about my research, and giving readings from the new novel. That's followed by a signing session the following morning, on Saturday 15th, at the wonderful Cotwold Bookstore in the picturesque town of Moreton-in-Marsh in Gloucestershire.
The following week, I'll be attending History in the Court at Goldsboro Books in London along with a host of other writers of historical fiction and non-fiction. Now in its second year, this event is a great opportunity to mingle with your favourite authors and other fans of historical writing.
Full details of these and all my other upcoming signings, talks and festival appearances, including start times and how to obtain tickets, can be found as always on my Events page. I'm adding new dates to my calendar all the time, so if you can't make it to any of those currently listed, keep checking back to see if I'll be appearing soon in your area.
After visits to Cambridge, Salisbury and Bath in recent weeks, the Sworn Sword tour stopped off last week in Wantage, Oxfordshire, for the very first Betjeman Festival. I was in conversation with Stephanie Merritt, better known as S.J. Parris, author of the excellent Elizabethan mysteries Heresy and Prophecy, about the attractions and challenges of historical fiction as a genre.
It's always fascinating to discover the similarities and differences between other historical novelists' approaches and my own, particularly when it comes to the all-important question of fact versus fiction. How much licence does a writer take when it comes to historical fact? Is it acceptable to alter the course of events in order to make for a better story? Or does the truth always take precedence, and must the fictional narrative be woven around that framework?
It was pointed out that whereas for Sworn Sword I have taken as my protagonist a fictional Norman knight, Stephanie's novels feature the real-life character Giordano Bruno, a renegade monk and philosopher hailing from sixteenth-century Italy. While on the surface those might seem like two very different approaches to writing novels set in the past, when it comes to deciding how much licence to take with historical events, our views turned out to be very much alike. Whenever the drama of the story comes up against the facts, we both agreed, it is the story that has to win out. But when it comes to the small details that flesh out a setting and contribute to the period atmosphere – the food and drink or the décor of the time, for example – it's important to get as much right as possible.
Of course the advantage in writing a novel set during the medieval period, at least compared with later centuries, is that the sources are sparser, the gaps in our knowledge wider and the uncertainties more pronounced. For the novelist, then, there are more opportunities to invent where things are not definitively known. Even so, getting the right balance between authenticity and a well-paced narrative is a tricky business. It's a subject that I'm sure I'll be returning to on this blog in future, as well as discussing during my upcoming events.
Speaking of which, coming up on Thursday 29 September is the first-ever History in the Court at Goldsboro Books in Cecil Court near Leicester Square in London. I'll be there signing books and talking to readers about my work, along with as many as fifty other historical novelists including such luminaries of the genre as Bernard Cornwell and C.J. Sansom, both of whom were significant influences on my writing, as well as Ben Kane, Robyn Young, Simon Scarrow?> and many more besides.
Building on the success of the popular annual Crime in the Court event, it looks set to be a great evening and a unique chance to meet lots of your favourite historical authors in person. The event begins at 5pm and will carry on until 9pm. Tickets are £5 and can be purchased online and from Goldsboro Books directly. More information, including a full list of all the authors attending, can be found on the History in the Court website.
For details of all my upcoming engagements, visit my Events page. I'm adding new signings and talks all the time, especially in the run-up to Christmas. Already I'm starting to fill out my calendar for 2012 too, so keep checking back to find out when I'll be visiting your area.
August has been a busy month, with the launch of Sworn Sword followed by a string of interviews, events and signings. So far the tour has taken me from Cambridge to London, the Cotswolds, Marlborough and Salisbury – and that's just the beginning. Here's a selection of the latest photos:
Many thanks to my hosts for these events: to the friendly folks at the Cotswold Bookstore in Moreton-in-Marsh, Gloucestershire, for not only providing freshly baked honey cakes but also creating the wonderful window display seen above, complete with medieval castle. Check out their blog for details of future signings, including one with Panama Oxridge, author of the ingenious novel Justin Thyme.
Especial thanks also to the White Horse Bookshop in Marlborough, Wiltshire, who last week put on a fantastic and well attended evening signing session and supplied both customers and author with wine. They'll be supporting the Marlborough LitFest, where I'll be appearing as part of the Wiltshire Writers panel on Friday 23 September.
For further news of signings, talks, readings and festival appearances, take a look at my Events page. More dates are being added all the time.
The latest addition to the list is a talk at the Durham Book Festival on Friday 21 October. Returning to the place where Sworn Sword – and Tancred's journey – begins, I'll be speaking about the novel's connection to the city and more generally about my inspiration for the series, and what particularly fascinates me about the Norman Conquest.
Featured podcast

For more podcasts, visit James's channel on

Soundcloud

.